How to convert AVI to MOV with WinMPG Video Convert?
In this help page, we will give user the guide of how to convert .AVI to .MOV format with WinMPG Video Convert, it is a complete and best solution for video conversion which supports all kinds of video formats and converting them to the popular video formats, it also supports converting audio formtas.
1. Please click the button"More..." on the main interface of WinMPG Video Convert.

2. Click "MOV" to convert dialog.

3. Convert dialog - convert an AVI file to MOV file: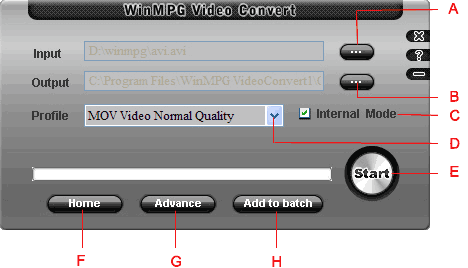 A. Select the AVI file which you would like to converted;
B. Change the path of the MOV file;
C. The internal mode(generally default, only change it when you can't convert AVI, MOV to other formats smoothly);
D. Choose the quality of the file;
E. Start to convert the avi file to mov ;
F. Home links to http://www.winmpg.com;
G. Advance setting(if you need,set detailed parameters for incisions,video,audio) ;
H. Add to batch that can convert more than one file once time.
4. Click the button
, start to convert AVI to MOV file.
AVI to MOV Converter Free Download
WinMPG Video Convert can convert .AVI to .MOV perfectly, it is a professional AVI to MOV converter. It also can convert popular media file format quickly, such as converting AVI to MKV, FLV to AVI, 3GP to MKV, etc. .
Knowledge base: AVI and MOV
What is AVI?
AVI ( Audio Video Interleave) is the most common format for audio/video data on the PC introduced by Microsoft. AVI is a lossy compression and has very high compression ratio. And some codecs enable AVI files to have similar or even better quality than DVD.
What is MOV?
MOV is a QuickTime (.mov) file format from Apple that contains one or more tracks, each of which stores a particular type of data: audio, video, effects, or text (e.g. for subtitles). It is a popular multimedia standard.
Related Guides for AVI to MOV Conversion